This idea teaches children about UN Sustainable Development Goal 12, which aims to ensure responsible consumption and production. In order to save the earth's resources, one of the most important things we can do is to reuse and recycle things rather than produce new ones.

Recycling is FANTASTIC! Artist Gwen Murphy has understood that. This Visual Arts project is based on her beautiful sculptures from old shoes. The pupils work with sculptures based on an existing form and combine recycling with creative materials. Aren't they fabulous?
Target group: Infants/lower juniors (preschool-Y3) and juniors (Y4-Y6)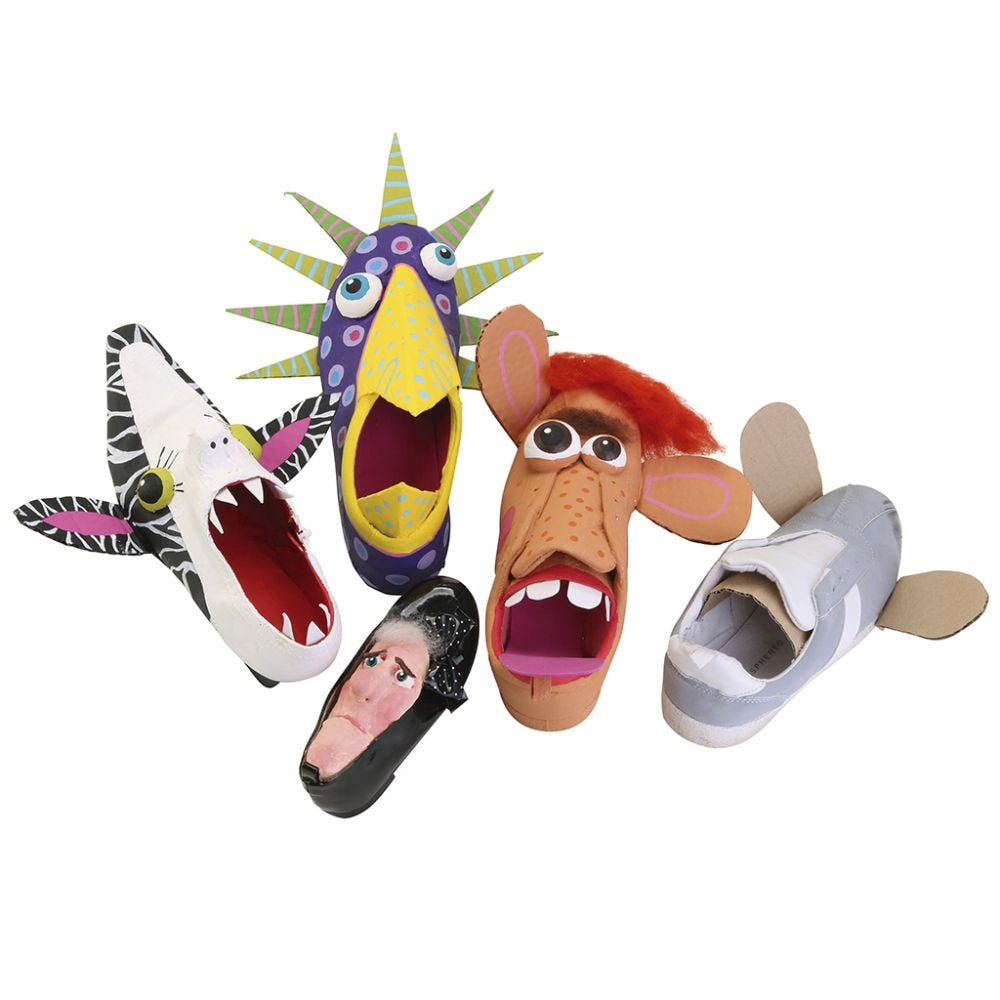 How to do it
1
Draw a sketch of your shoe sculpture first. Is it an animal, a person or perhaps a particular person? What do the nose, ears, etc. look like?
2
Draw ears, points and other large parts onto thick card and attach these onto the shoe with a glue gun or masking tape. Remember to add approx. 1 cm for the glue fold!
3
You may make the nose from an egg box dimple and attach it with a glue gun or masking tape.
4
Cover the shoe with masking tape if it, for example, has a synthetic or smooth surface that is not easy to paint. If the shoe has a textured surface, you won't need to cover it with masking tape.
5
Prime the entire shoe with Super Primer and allow to dry.
6
Paint the toe area with an opaque acrylic paint in your chosen colours and leave to dry.
7
Attach polystyrene, eyes, hair and eyebrows (from wool), teeth, heavy glasses etc. from foam rubber using a glue gun.
8
Draw details with an opaque marker.
9
Make fine freckles or dots with a brush handle dipped in paint.
10
Paint eye colour, pupils and eye reflexes on the eyes - see the picture! It adds a lot of life to the sculpture!!!