Cylinder Glasses with Napkin Decoupage
Cylinder Glasses with Napkin Decoupage
Glass decorated with napkins, zebra card, paper yarn and beads. How to do it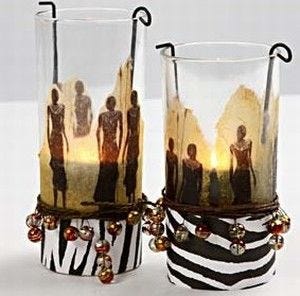 1
Remove the back of the napkin and rip or cut out the design. Glue onto the glass using decoupage lacquer. Cut a strip of zebra card measuring 17.5 x 3.5cm and glue it onto the bottom of the glass. Sew beads loosely onto a piece of paper yarn and wrap it around the zebra stripe.
Copyright © 2013-present Magento, Inc. All rights reserved.