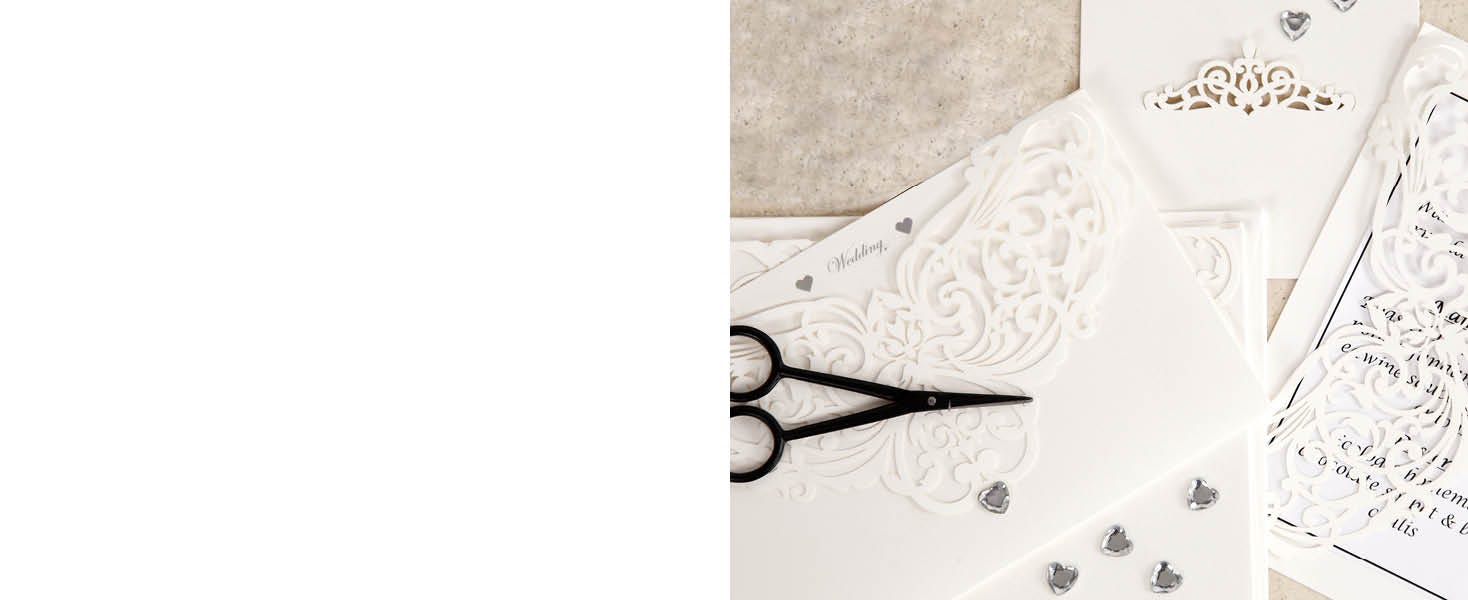 Wedding invitations
Get a head start on the joys of making your own wedding invitations.
You can find everything you need to get started - both products in different colours and ideas with "How To" guides.
With homemade wedding invitations you also show your guests right away, how much the big day means to you.
Inspiration: 15337

An Invitation decorated with Lace patterned Card, Deco Foil Heart and Rhinestones

Make your own invitations decorated with lace patterned card, vellum paper, a deco foil heart, a satin ribbon bow and rhinestones.

Inspiration: 15187

A Wedding Invitation decorated with Lace patterned Card and Satin Ribbon

Inspiration: 15185

A two-fold Wedding Invitation decorated with lace patterned Card

Inspiration: 15176

A Wedding Invitation and Envelope decorated with Design Paper

Inspiration: 14887

A red and white Wedding Card with Rhinestones

A red/white wedding card with textured paper, satin hearts, rhinestones and satin ribbon. You may change the text and use this card as a Valentine's Day card.

Inspiration: 14888

A black Wedding Card with Design Tape Borders

Inspiration: 14889

A Wedding Card with a silver Card Frame and textured Paper

Inspiration: 16051

A purple and white Invitation, Place Card and Table Decorations

Inspiration: 16013

A pink and white Invitation, Place Card and Napkin Decoration

Inspiration: 16029

An Invitation and Box with Filigree Paper Hearts

Inspiration: 14488

A black Invitation and Place Card with white Paper Lace Border

An invitation made from a black greeting card decorated with a white textured paper border with print. A lace border is punched out at one end. The border is divided in the middle by a black glossy design paper border. Decorate with a self-adhesive heart made from small rhinestones. The place card is made in the same manner.

Inspiration: 14487

A black and white Invitation, Menu Card and Place Card

Inspiration: 14486

An off-white and copper Invitation and Place Card

Inspiration: 14485

A white and silver Invitation, Menu Card and Place Card

Inspiration: 14484

An off-white and gold Invitation and Place Card

Inspiration: 14355

Satin Hearts on a Wedding Invitation and Wedding Decorations

Inspiration: 14352

Wedding Decorations with Rhinestone Heart Stickers

Inspiration: 14360

Decorated Filigree Greeting Cards, Place Cards & Table Decoration

Inspiration: 14375

A Wedding invitation & Table Decorations with Fingerprint Hearts

Inspiration: 14356

Wedding Decorations with a romantic Satin Ribbon

This wedding invitation, the folding box and the rose are decorated with a romantic satin ribbon . The place card heart is tied onto the rose. Stickers are used for further decoration.

Inspiration: 14354

Wedding Decorations with romantic Sequins and Stickers

Inspiration: 14132

A white and green Happy Moments Invitation and Menu Card

Inspiration: 13990

An Envelope and Invitation decorated with Satin Ribbon and a Heart

Inspiration: 13611

An Invitation and Table Decorations for a White Wedding

Inspiration: 13413

A Card Series with Paper for a Rosette and Natural Hemp

Inspiration: 13411

A Card Series with pearlescent Card, masking Tape & Paper Flowers

Inspiration: 13410

A Card Series with Design Paper and Satin Ribbon with Hearts

Inspiration: 12944

A Party Invitation and Card with Punched-Out Decorations

A card series made with pearlescent and gold paper, Color Bar card, lace border and a heart. Punch out the border and heart with a Border Punch/Pop Up Punch. Decorate with gold thread, a mother-of-pearl heart, feathers and 3D dots made with a Pearl Pen.

Inspiration: 12942

A Party Invitation, Card and Table Decoration with Daisies

Inspiration: 12940

A Party Invitation and Card with a Bark Heart and Half-pearls

Inspiration: 12939

A Party Invitation and Card with a Wooden Heart