 How to do it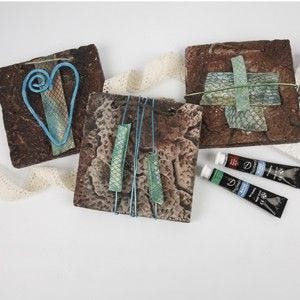 1
Rub paint on the icon in the colours burnt umber, petroleum and kiwi, use a sponge with water to get the colours in the plate, give several layers.
Roll the self-hardening clay out in a thin plate by using the roll. When it has the wanted thickness, roll lace, net or anything else that gives a funny structure.
Now Cut the plate in to lanes and let it dry for 24 hours, then they are painted once more with a moist sponge in lighter colours or contrasts, try to wipe some of it off.
When they are dry, glue then on to the icon plate and wind with bonzai wire. The heart is made from He hammeredbonzai, shape the heart and then hammer it flat.
Copyright © 2013-present Magento, Inc. All rights reserved.