A hanging Decoration with Vivi Gade Design Paper Diamonds
A hanging decoration from two large paper diamonds (20 and 16cm in size respectively) on a long leather cord with wooden beads at each end. Each paper diamond is folded and glued from a piece of square Vivi Gade Design paper (the Helsinki series).
How to do it
1.
Fold each paper diamond from a square piece of paper. Use a 30 x 30cm piece of paper for a diamond which measures 20cm across. Use a 25 x 25cm piece of paper for a diamond which measures 16cm across. Fold the paper in the middle in both directions and unfold again. NB: the design paper has a different print on each side. Turn the desired design upwards as illustrated here.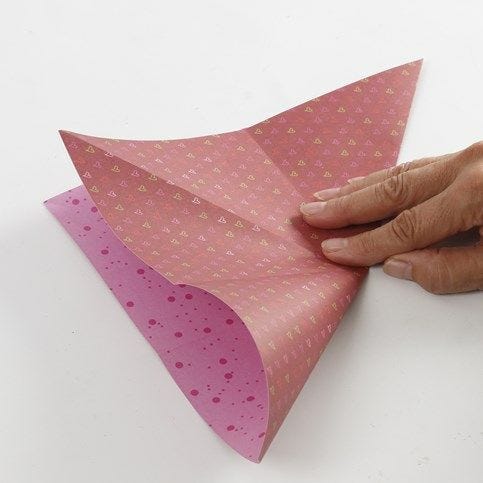 2.
Turn the paper over and fold diagonally in both directions. Unfold.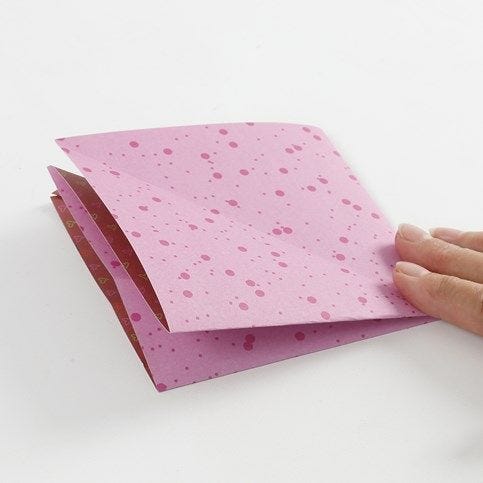 3.
In the unfolded piece of paper, where all the folds are now visible, grab the middle horizontal fold from each side of the two 'squares'. Press towards you and a square is formed in the diagonal folds.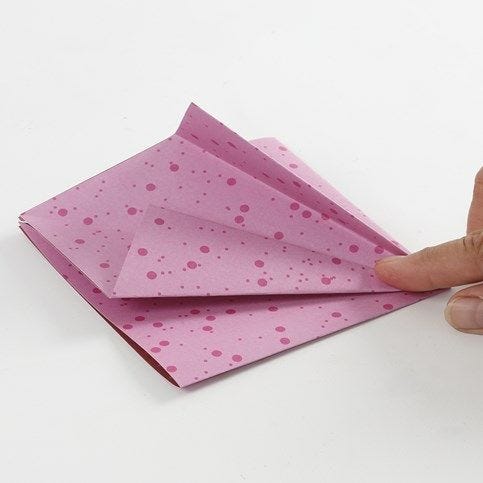 4.
From the tip, which is closed, fold from each side towards the diagonal score line. Turn over and repeat on the other side.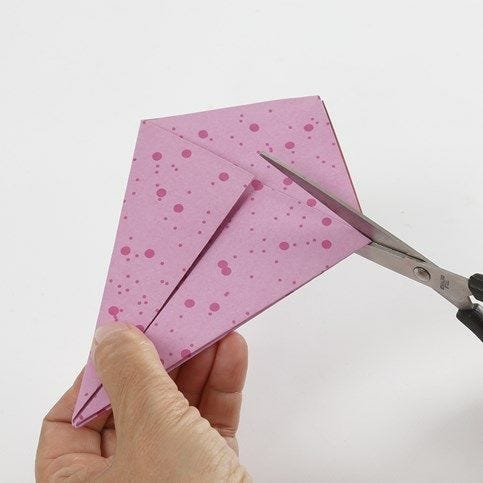 5.
Cut off the end as shown.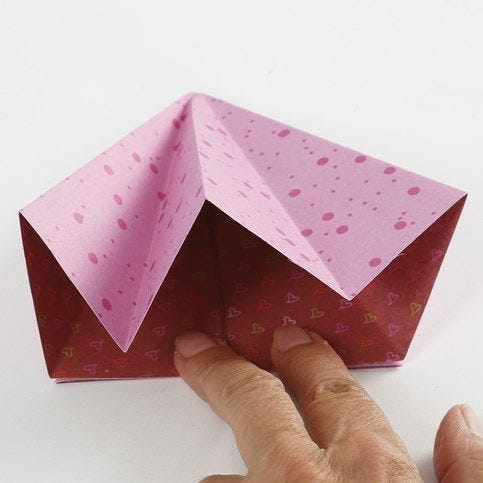 6.
Place the folded triangle flat with the opening facing you. Insert a finger into the tip to keep the whole assembly in order whilst pushing the outer folds in the opposite direction. Turn the triangle over and repeat on the other side.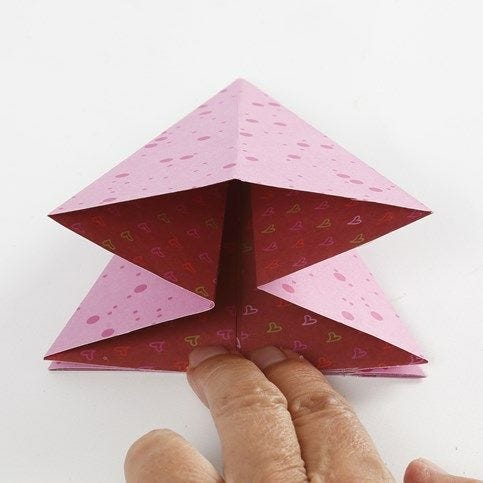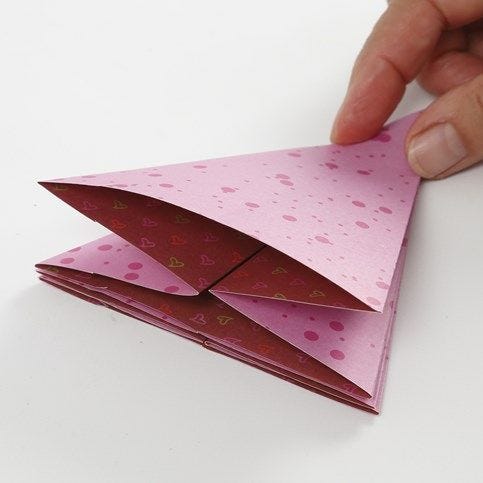 8.
Place the triangle with one of long sides facing you.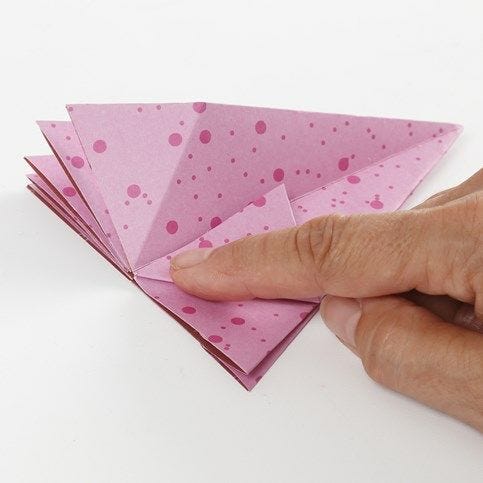 9.
Fold the bottom corner towards the score line in the middle. This must be done very accurately. Continue all the way around.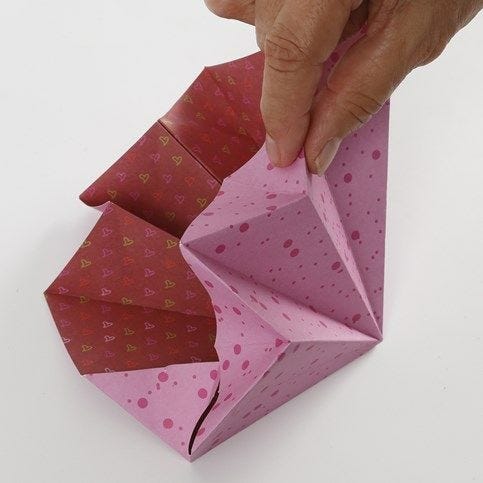 10.
Unfold. For each tip, make a fold backwards and press firmly together.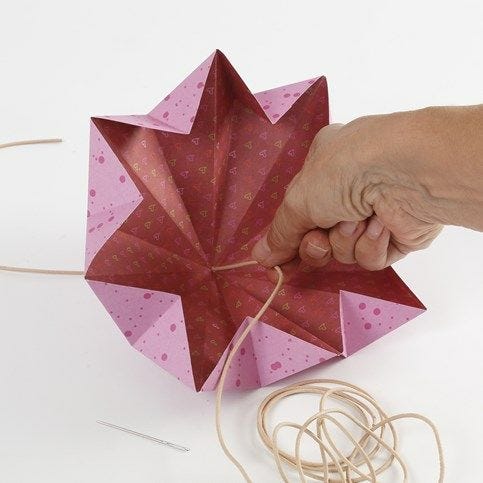 11.
Make a hole in the middle and thread a leather cord through the hole.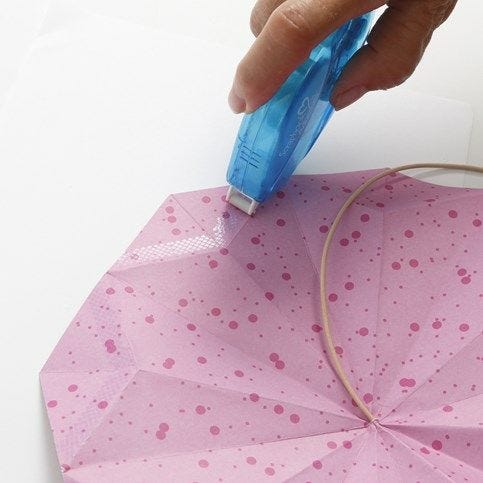 12.
Unfold and glue along the inner edge of the outer diamonds as shown. Use E-Z Runner.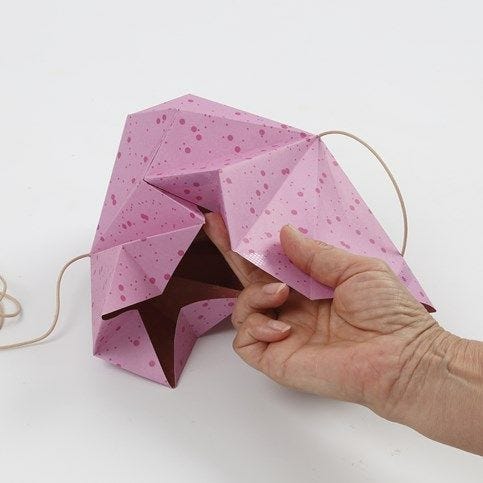 13.
Follow step 1-10 and make another part of the paper diamond. Make a hole in the middle and join this with its "twin" on the leather cord.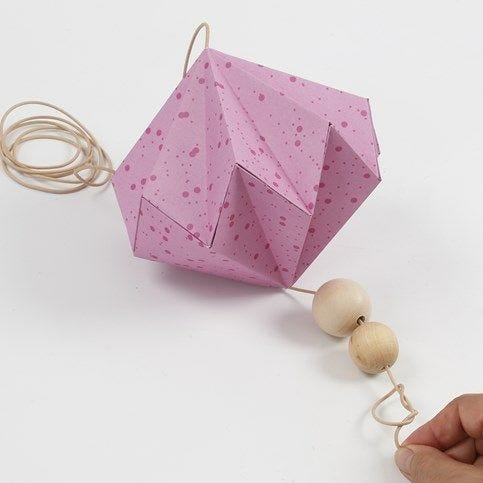 14.
Thread wooden beads in different sizes (diameter 3.5, 3 and 2cm) onto the leather cord at both ends of the paper diamond(s). Tie a double knot at the bottom and trim.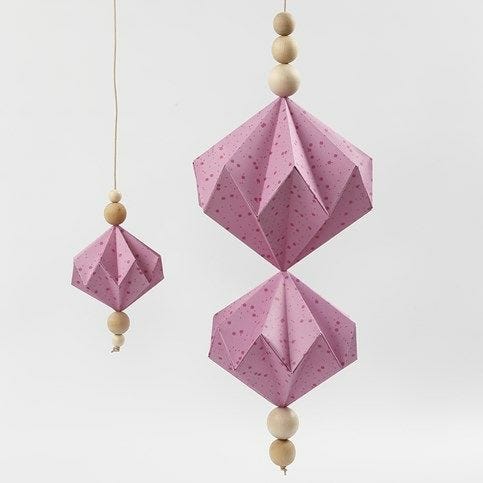 Another variant
Paper diamonds in three sizes; a hanging with two diamonds and a hanging with one (the smallest). The latter has a width of 10cm and is made from a square piece of paper (15 x 15cm). It is decorated with wooden beads; 2.5, 2 and 1.5cm in diameter.
I'm shopping as
b2c incl. tax
b2b excl. tax
b2g excl. tax
Go back
I'm shopping as
Continue as guest
Copyright © 2013-present Magento, Inc. All rights reserved.