A Cushion made from Merino Wool
A Cushion made from Merino Wool
Knitting with unspun wool is an old tradition which is currently undergoing a revival using very thick knitting needles. The wool is unspun, with long fibres and is combed. The gorgeous Merino Wool comes in combed bunches with long lengths and is easy to divide, ready for knitting. We have chosen No. 20 knitting needles, so you can knit a front cushion cover very quickly. Off-white Textured Acrylic Felt is sewn onto the back of the cushion front cover. Sew them together with coarse flax twine to maintain the rustic style. You will need: 2 balls of Merino Wool each 100 g. Gauge: 10cm = 6m plain stitches on knitting needles size 20. This recipe fits a stuffed pillow, size 40 x 40cm. Start by dividing the ball of wool into eight long lengths. Cast on 25 stitches and knit plain stitches until the knitted piece measures 42cm. Cast off. Cut a piece of off-white Textured Acrylic Felt measuring 42 x 42cm. Sew the felt piece onto the back of the knitted front piece using coarse flax twine and put the stuffed pillow inside before sewing the last side. How to do it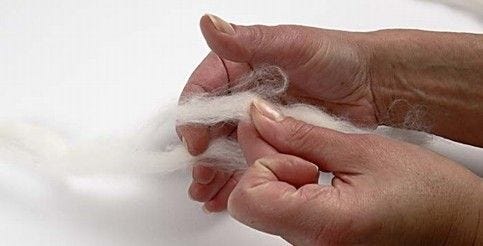 1
Divide the 100 gram bundle into eight lengths. Sew with coarse stitches when assembling.
Copyright © 2013-present Magento, Inc. All rights reserved.